A Westfield, Indiana,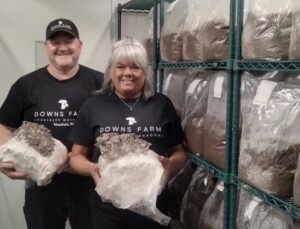 couple is celebrating the launch of a new business centered around specialty mushrooms that are sustainably grown in a controlled-climate farm.
Mark and Julie Downs harvested their first batch of blue oyster mushrooms in mid-July, just weeks after their innovative, container-based farm was delivered. 
"As a lifelong resident of Westfield, I am excited to bring something new to our growing city," Mark Downs said. "With the upcycled container farm, we will be able to supply fresh and chemical free gourmet mushrooms year round to restaurants and residences." 
Having a local mushroom grower means chefs and grocers have access to the freshest product possible. They no longer have to rely on a shaky supply chain or buy mushrooms that have spent several days in transit and are nearing the end of their shelf life.
Downs Farm is already securing partnerships; on July 28-29, the Angry Donkey, a popular bistro and pub in Michigantown, will begin serving salmon mousse-stuffed halibut with blue oyster mushrooms grown in the tech-assisted farm.
The Gourmet Mushroom Farm — designed and built by Colorado-based FarmBox Foods — is run in part by software and hardware specifically designed for indoor growing operations. It allows farmers to control the humidity and temperature, misting and lighting schedules, fresh air exchange, and more. Cultivating mushrooms in an enclosed, food-safe space means there's no need to use harmful chemicals in the start-to-finish growing process.
Gourmet mushrooms are becoming a big business as consumers increasingly recognize the health benefits of a wide array of mushroom types. They're often used as a protein in vegan meals, and they're an unbelievably delicious part of dishes like beef stroganoff, stir fry, risotto and marsala. 
The Downs are growing blue oysters and lion's mane, and plan to follow market trends for additional varieties as they expand their operation, which is based on acreage property in Westfield.
As owners of Downs Farm, Julie still has her full-time job and Mark is committing all of his time to cultivating mushrooms.