A local family is celebrating the launch of a new business centered around serving the Platte Valley community sustainably grown greens using an indoor vertical hydroponic farm.
Thirsty Roots Farm ('TRF') is a controlled-climate, water-efficient, tech-assisted vertical hydroponic farm housed inside an upcycled shipping container and is able to grow food year-round.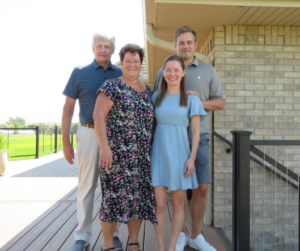 TRF is a multi generation family business owned and operated by the Kerrs: Jarod, Maggie, Jim, and Nancy. Jarod (2011 Scottsbluff High School alumni) and Maggie Kerr provide the business expertise and entrepreneurial spirit that have brought this innovative vision to life. Jim and Nancy Kerr bring lifelong growing expertise as members of farming families and firsthand knowledge of the Scottsbluff community as residents for over 40 years. Together, they started Thirsty Roots Farm to bring fresh, local, sustainable greens to communities and are starting right here with ROOT 1. This hydroponic farm will look to supply produce to local businesses in order to increase their reach and serve as many people these delicious greens as possible.
As of this week, TRF has launched a partnership with Powerhouse on Broadway, which is located in the City of Scottsbluff and recently opened their doors in January. Unsurprisingly, it is also owned by a longtime local family, Kerri and Dave Schaff. Powerhouse on Broadway specializes in farm-to-table dishes, making Thirsty Roots Farm a premiere partner to serve customers greens grown 4 miles down the road instead of 2,000 miles across the country. The excited growers and chefs have come together to develop specialty salads that will offer patrons a fresh and exciting dining experience. The deep color, variety of textures, and explosion of flavor in the greens combined with the creative vision of the chefs showcase a summer menu to truly be excited about. Also, the flavors extend beyond the salad bowl to their cocktail menu featuring edible flowers and fresh herbs jazzing up their libations. Pro tip: salads and cocktails are best enjoyed on the primetime Powerhouse on Broadway patio right on the new 18th Street Plaza.
The Kerrs are proud to begin their entrepreneurial journey with ROOT 1 to bring nutritious produce to this community that deserves high quality food and introduce a concept whereby residents can access fresh, locally-grown food at their favorite establishments all year long. This vertical hydroponic farm, built by FarmBox Foods, is helping share the family's passion and experience of growing nutrient-dense, delicious food while celebrating their roots.
As Thirsty Roots Farm broadens its offerings in ROOT 1, it will announce additional partnerships and make items available to customers through its online store. Follow along on their journey by liking 'Thirsty Roots Farm' on Facebook, following them on Instagram @ThirstyRootsFarm, or by visiting their website www.ThirstyRootsFarm.com
About Thirsty Roots Farm
Thirsty Roots Farm is sustainability, community, and nutrition conveniently combined into a climate-controlled steel container. We are relentlessly striving to solve the problems of food availability and quality with year-round bountiful harvests as close as your nextdoor neighbor. Through innovation and a dedication to the small-scale farm systems sewn into the roots of our history; Thirsty Roots is empowering small businesses and communities to take the quality and availability of nutritious meals into their own hands.