The smiles said it all.
We don't often have the opportunity to see people working in our farms or enjoying fresh produce grown in a FarmBox. But that changed with our sponsorship of "Dancing with the Pueblo Starz" on July 15.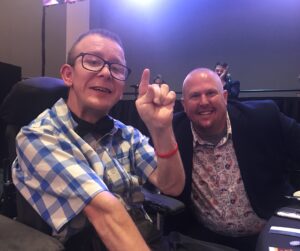 The event included active participation by individuals with intellectual and developmental disabilities who work in the farm that was refurbished by FarmBox Foods and purchased by the nonprofit, Pueblo Diversified Industries. The Vertical Hydroponic Farm is used as the centerpiece of its Fresh Greens Colorado business, which doubles as a workforce development center for this underserved population.
The night was nothing short of magical. PDI and the seven couples who performed the featured dance routines raised $75,000, which will go toward supporting their agtech program.  Eric Gostenik (Director of National Sales at FarmBox) had the opportunity to dine with one of the developmentally disabled farmers and witness his reaction when he saw a video of himself talking about working in the farm. The farmers also participated in their own rehearsed dance routines.
Seeing this community rally around their own and around a program with infinite potential to transform lives was an opportunity of a lifetime. It brought the reasons why we do what we do to the forefront. We had the chance to meet city and county leaders, and I got to share a little bit about our company and our mission to the 600+ attendees.
To me, this is only the beginning of our work in Pueblo. There's a significant need for food access, and when you can include a subset of people who find purpose and joy in helping others, it benefits everyone. We get to tell these stories and, ideally, show people outside of the company just who we are and what we believe.
This partnership was wholy a team effort. Eric shepherded PDI through the sales process, Jason Brown (VP of Deployment) and Jesse Gantzler (Quality Control Manager) put in a lot of work moving and refurbishing the VHF to be in ready condition, and they along with farm trainers Nick Brooks and Mollie Sullivan have provided support during operational challenges. Joseph Cammack (Executive VP) and Eric attended the Saturday night event in Pueblo and represented the company well while thinking about future partnerships with those sitting at our tables. I (Chris Michlewicz, VP of Communications) nervously gave a speech about who and what FarmBox, why we sponsored the event, and I even managed not to tear up when talking about the uplifting videos of those who work in the farms.
This is the ideal customer. They want to do good in the world, they know the impact of our container farms, and they're serving as our ambassadors in Pueblo. This is what it's all about.