We're incredibly proud to announce that our CEO, Rusty Walker, is among the honorees for the Who's Who in Agriculture awards for 2022. The annual award from the Denver Business Journal and Colorado Farm Bureau recognizes an industry leader's accomplishments in helping to put food on our plates and generate nearly $50 billion in collective economic activity each year.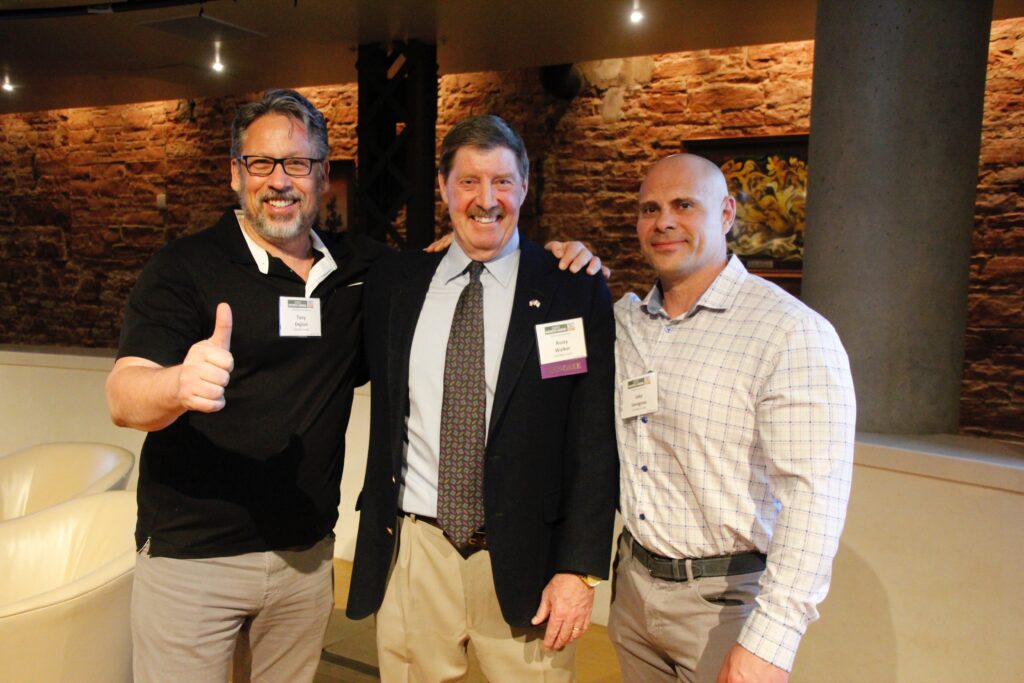 Rusty is featured in the April 1 edition of the Denver Business Journal and was honored during a ceremony on March 31 at Kevin Taylor's at the Opera House in Denver, alongside other deserving recipients.
Probably the coolest thing about this recognition is that two separate organizations decided to nominate Rusty unprompted. His influence and leadership are a big part of our success story, and we're glad that people outside of the company see that.
Read more about Rusty Walker here
Proudest accomplishment of the past year?
Helping to feed people in areas of need, because no one should go hungry. I'm also proud of helping build a team at FarmBox that truly believes in our mission of empowering communities to grow their own food.
What impact has the pandemic had on your area of focus?
Sourcing of materials has become more challenging, but the supply chain disruption has thrust local farming into the spotlight in a good way. Hyperlocal farming provides a secure source of food near the consumer without concern for delays related to supply chain issues. The disruption has brought to everyone's attention how important having decentralized food production is. This disruption provides a unique opportunity for us to focus on a product that can have a meaningful impact. Our farms have come about at an opportune time to bring attention to just how vulnerable we were as a society.
What would you say is the biggest challenge Colorado's agricultural industry faces today?
Drought conditions would have to be up there. It's become so much harder for farms to thrive because of weather and climate impacts. Water shortages are a real thing, and we have something that can be part of the solution. Colorado is in a precarious position for a number of reasons and our farms enable people to conserve this important resource. We can help farmers who are struggling with uncertainty and provide a reliable, secure source of nutritious food.
What could the state of Colorado do better to fix it?
Incentivize alternative methods of farming that decrease risk of crop loss, reduce water usage, and have less impact on the environment. We have been embraced by the farming community because we provide a lifeline that enables farmers and ranchers to grow food year-round, and especially during times in which weather negatively affects crop yields. What we're up against is out of our control, but we provide the ability to focus on things that are in our control.
What's one thing you wish Coloradans understood about your job that most don't?
Even though we're a for-profit company, we're very much a mission-driven organization. That means people and their right to food security doesn't get lost in the decision-making process. We're very intentional about how we have grown, and how we operate, and that's been key to our success. There are few industries that controlled-environment agriculture doesn't fit into, and so it's figuring out where we can have the most impact.
When I was asked to be CEO, it was a blessing. It was taking on the responsibility of carrying on that blessing and all of its challenges, and we have a purpose-driven mission that's not taken lightly. Anytime you have an opportunity to carry out a purpose like this, you have to know that this is much bigger than myself or this company, because we have something that can have a huge effect on the world. The importance of that is not lost on me or the FarmBox team.
What trends are you watching in your field in 2022?
We try to take a broad look at trends related to how impactful our farms are in the communities that our farms serve. It's measuring the impact of our farms in communities where they're placed, and how that affects those communities, coordinating with local organizations, including 501c3s, in getting these farms where they need to go.
What advice do you have for young professionals in your field?
Continue exploring ways to do more with less by using science and tech to solve concrete problems facing the world. Continued improvement is part of our culture, and I find that's the best way to go about your professional and personal life. I also think you should never go it alone. You should work on being a team player and surround yourself with people who want to achieve a goal together, and go at it in a selfless way.
What do you do in your free time?
I love to spend time with my family, read, exercise, golf and just enjoy life in Colorado.