From the onset of the COVID-19 pandemic, fresh vegetables were hard to come by in rural areas outside of Halifax, Nova Scotia. The cost of the produce that was available began to increase, and the quality was decreasing.
It was then that Kris and Brenda Sutton circled back around to an idea that Kris had researched a few years earlier: vertical farming.
They learned that growing produce in the community where it's consumed eliminates supply chain issues from the equation and can give customers peace of mind knowing where their food is coming from. It also means consumers get fresh, nutrient dense produce compared to those being shipped in, losing nutritional value as they are transported. Additionally they learned that the vertical farms — housed inside insulated, controlled-climate shipping containers — can operate year-round, regardless of the season, allowing for quality and consistency for the food.
(scroll to keep reading)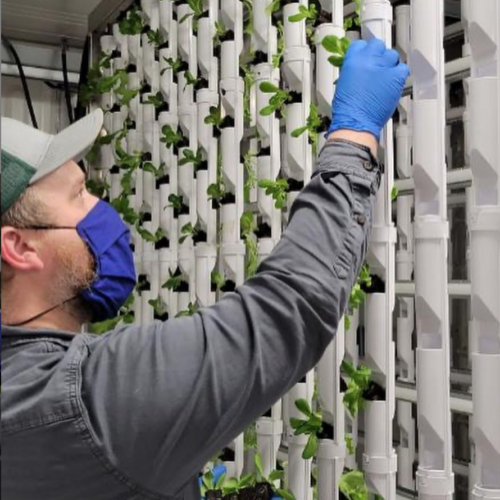 The idea was tossed around for a short time between the husband and wife, but after Kris was briefly put off his work as an airplane mechanic following a back injury, he laid on the couch and daydreamed more and more about running his own vertical hydroponic farm. He saw this career as a less physically demanding and more rewarding one. His "happy place" during recovery was thinking about "getting back to gardening and planting seedlings in the Spring."
Kris and Brenda decided to contact and visit a nearby vertical farm and quickly embraced the concept and all it could offer.
"She was more excited than I was at that point," Kris says, then adds, "well, close. On the same level."
The owner of the container farm they visited, however, pointed out some of its inefficiencies, and recommended buying a farm from their competitor, FarmBox Foods, which offers a system that requires less labor, is more efficient and can produce larger yields.
Months later, the daydream became a reality when a FarmBox Foods container farm was placed in their backyard. Within weeks, the first crop was on its way and Sutton's Vertical Gardens was officially in business.
Together Kris and Brenda developed a start up plan that includes selling a variety of lettuces to local grocers and restaurants between Halifax and Enfield, Nova Scotia. Sutton's Vertical Gardens also has plans to further serve their community in the future by hopefully offering the container farm as a venue for school field trips, volunteer experience and educational purposes.
"Yes, we want to make money and have a livelihood but we also want to try and educate and inspire others to be farmers, innovators, and entrepreneurs. Who better to start sharing these ideas with but our future generations?!" Brenda said.
Kris, the business' main farmer, who comes from a family of green thumbs and has an existing 14-by-24-foot greenhouse filled with bell peppers, cucumbers and tomatoes, gets up at 5:30 a.m. every morning and embarks on the shortest commute he's ever had. He walks to the FarmBox Foods container farm in his backyard in Enfield, NS, a mere 30 feet away from the fenced-in play area for the Sutton's adorable odd couple Boston Terrier and Great Dane, and walks into his new office.
The fresh scent and the sight of the ever growing and changing plants are a daily reminder that the Suttons are right where they should be, creating something they're proud to soon be sharing with their local communities.
"They always say 'try to find a job where you do what you love and it will never feel like work,'" Kris says. "I feel very lucky to be able to say I'm doing just that."
Learn more by following Sutton's Vertical Gardens on Instagram and Facebook.
View The FarmBox Gourmet Mushroom Container Farm