There's no doubt that healthcare professionals deserve to be recognized and celebrated for their tireless efforts and unwavering dedication during the pandemic.
Police and fire personnel and even restaurant workers also should be lauded for continuing to work in very uncertain times. But a group that gets little recognition for adapting to the times (albeit less consequential) is local farmers.
When the supply chain dried up, people turned to local farmers, who played a vital role in helping to provide fresh, healthy food to their communities. Some did it through direct-to-consumer community-supported agriculture programs, or CSAs; others partnered with local grocers.
When the pandemic hit, grocery store shelves were emptied due to panic buying and supply chain disruptions, leading to food shortages in some areas. In response, local farmers stepped up to fill the gap, including Sutton's Vertical Gardens in Nova Scotia. The husband-and-wife team that owns SVG noticed that the produce arriving in their area near Halifax was lacking in quality and was priced quite high.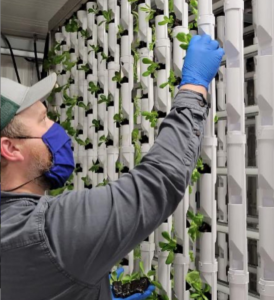 Local farmers largely had more flexibility to adjust their production and distribution strategies to meet the needs of their communities. For example, some farmers shifted their focus from supplying restaurants and institutions to selling more products directly to consumers.
Local farmers also played a critical role in supporting food banks and other organizations that serve vulnerable populations. Many farmers donated excess produce or sold it at discounted prices to food banks and other organizations, helping to ensure that everyone had access to quality produce during a time of crisis.
Those who got to know nearby farmers forged new friendships and supported local economies, all while strengthening and reshaping food systems. Many consumers decided to stick with the new model after realizing it was important to know where their food comes from and it helped reduce the carbon footprint associated with transporting food over long distances.