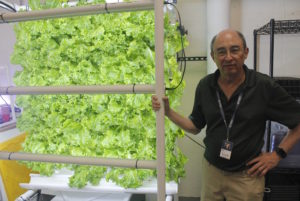 SEDALIA, Colo. – Valor Christian High School has a project-based learning environment that is helping to lead the next generation of agriculturists to the greener pastures of the future.

The Applied STEM Program, led by director Rick Russon, enables students to put into practice what they learn in the classroom, preparing them for successful careers in a number of industries, including agriculture. Members of Valor's agriculture club, in particular, have an infectious enthusiasm for ideas that combine brain power with a desire to make a positive impact on the world, and it's already leading to groundbreaking results. For their capstone project, Russon and the club members built a four-tube vertical hydroponic unit using prototype parts donated by FarmBox Foods.

"I told Tony I'd like to have a farm here, but I don't have the money to do that," Russon said, referring to FarmBox Foods founder Tony English, whom he met on LinkedIn.

The unit — based at the school — began producing huge quantities of fresh lettuce, and quickly grabbed the attention of students and faculty at the private Highlands Ranch school. Russon estimates that more than two dozen teachers have approached him about constructing a home unit for them. FarmBox Foods also shared the know-how and the tools necessary for students to conduct "shoebox mycology" experiments, and soon, the Valor students were growing gourmet mushrooms on a small scale in their classroom.

Russon's foray into academia was not exactly planned. He volunteered to be a parent advisor, and that quickly morphed into a role as director of the Applied STEM Program, where he and the students have flourished.

"I have always loved gardening and growing things," Russon said. "I brought in some projects from home and the students saw a germination station I brought in and said 'can we grow something?' That's how the agriculture club started."

Now, Russon, who in his professional career has helped lead innovative projects related to tank gun stabilization, torpedo guidance and even flight simulations for NASA's first five space shuttle missions, is developing a control system for an 8-tube vertical hydroponic system using Raspberry Pi controllers typically used in video game systems. It will help run a network of sensors that monitor temperature, nutrient levels and pH, and control ventilation fans and full- spectrum LED lights also used by FarmBox Foods. The Applied STEM Program is aiming to modify the four-tube hydroponic system and build several models to bring them into food deserts to feed people in need. Valor Christian sends nearly 40 teams throughout the world each year on missions, and Russon's hope is that they can help deploy a workable system in areas with little arable land and few resources.

The Valor-based vertical hydroponic setup, meanwhile, continues to draw interest from students and faculty who want to grow their own farm-fresh greens and potentially help others learn the science behind the hydroponic growing process.
"I feel honored to have this (system)," Russon said. "Someday when FarmBox is enormous, I'll be able to say we had this."